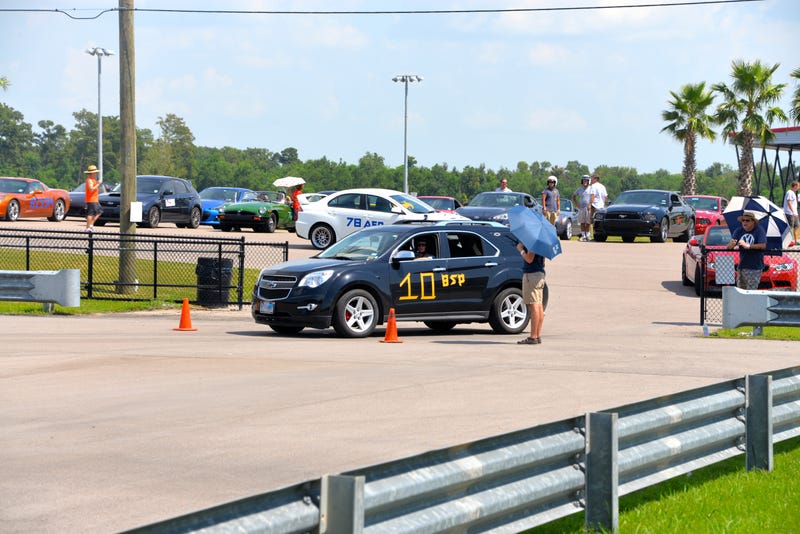 Lets start this off by saying this: I'm 20 year old college student, I have had my little SUV for 4 years, and my parents bought it for reasons of safety and practicality, as loving parents should.
As I got older over the past 4 years my love for cars and racing has grown exponentially, but my vehicle has remained the same, but that hasn't stopped me!
I began modifying my car as any young person does, Lowering Springs, K&N CAI, Resonator Delete, and soon sportier tires, all with the effort of Making more power out of the little 3.0L V6 (should be 280+hp), and to improve handling.
I am an SCCA member after all (free at FSAE Lincoln) so I decided to go to autocross!, but not alone, as I was with a good portion of my Formula SAE team (more about that in a future story) LSU Tiger Racing FSAE
As a first time autocrosser, besides driving the formula car on occasion, had an amazing time throwing my 'boat' around the course. I locked my car into 1st and 2nd gear only, turned traction control off, but left stability control on. I was told after I created the most tire squeal of any car they have seen, and it was described as 'crying its way around the track' by one of my friends.
I got 5 clean runs, and 2 runs where a tent blew onto the course, or the timing wasn't setup, for a total of 7 times on the track. The course was set up on the NOLA Motorsports skidpad with 2 long sweeping turns, 1 hairpin, and some slaloms. The fastest time of the day was a 36s, and the slowest a 48s, I managed to pull a 42.5s (or maybe a 43, but I saw a 42.5) Autocross Results ** I didn't hit a single cone! **
At the end of it all, after my friends with Mustangs, Turbo Miatas, and 350Z's had finished, I still lost, but I had the time of my life! and I was as fast as a BMW 850i, and faster than NA miatas, so atleast I have that going for me!
Overall, temp gauge never moved in 100 degree heat, nothing broke, and I had a great time!
and yes, I painted my brake calipers red, thats worth 20hp right?